Vastu controls positive and negative energy in the house. When it comes to locate pooja room in house, it should be planned into
north-east direction which is considered as an excellent location for pooja room.
'Pooja room' situated in north-east brings prosperity, good health, wealth, happiness and peace of mind. The north-east is auspicious direction as morning sunrays directly fall from north-east and give us positive energy. Pooja room in north quadrant provides good results while in big plots
this room can be constructed at Brahmasthan (central portion) of the house.
In case there is no facility for the location of Pooja room separately, you can utilize a corner or shelf as a pooja room. The room should be located on ground floor, not on first floor or in basement. It should not be inside bedroom, not be made above, below or adjacent to toilet or kitchen.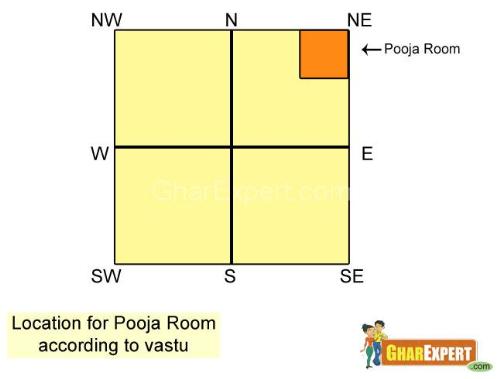 For more info on 'Pooja Room Vastu'
click here.
Visit us at
www.GharExpert.com