Are you going to design your
kids' room
? Keep in mind their
wild imaginations, playthings, fun items, color schemes, wall papers
in their rooms. It's wise to allow them go through raptures, make their imagination go wild; enjoy funny items. If you want your kids to play indoors, you need to make their room interesting and playful.
To make your kids room interesting, apply
fascinating color themes on walls, place cartoons
and attractive toys and add several fun things to your kids' room. You can decorate your kids' room with any t
heme that your kid would like to entertain with. In fact kids' room reflects your creativity for colors and various themes on wall paints. The following are a few choices of kids' room themes.
Movie Themes:
Every kid wants to see an animated film like
Alibaba's, Aladin's,
any toy story etc. It's wise to purchase cloths, furniture items with movie themes. You can go for wall papers showing movie characters or paint them on walls.
Cartoon themes:
cartoons having different drawings and colors attract kids' attention towards them. You can fulfill their quest imaginative of pictures by drawing various cartoons on walls. Cartoons characters like
Mickey mouse, a fairy, any flower etc.
can turn their room into a land of pleasure. In addition you can go for hand painted murals, curved lines and other pretty diagrams on walls.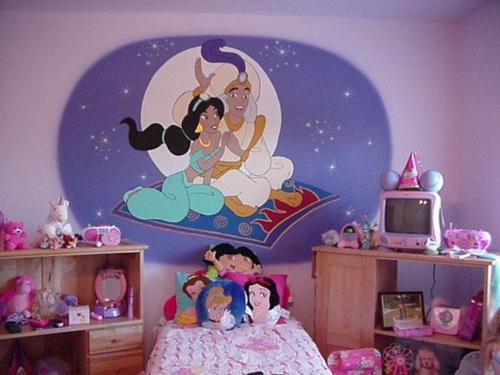 To know more kids' room themes like Jungle theme, Sea theme ,
click here.