Kitchen
countertops
ornament interiors of your kitchen. Numerous countertops like
granite countertop, marble countertop, laminate countertop, stainless steel countertop
etc. enrich the beauty of your kitchen. Always choose a countertop that resists cuts, heat, dampness, grease and corrosive products and matches with different elements of kitchen like cabinets, appliances etc. The following are a few choices of kitchen countertops.
Granite countertop: Granite is widely used for kitchen countertops and enhances elegance of the kitchen. It is long lasting, maintenance-free and does not let bacteria grow randomly. Granite countertops are inflammable when any hot pots are set on them. The granite being made from hardest materials like diamond absorbs stains.
Laminate countertop: Laminate countertops are available in a variety of styles, colors, and textures. The countertop is impact resistant, quite easy to clean and maintain, durable but not permanent. It offers good looks forever if proper care is taken. It has a drawback as it is impossible to repair scratches and cuts.
Stainless steel countertop: choose stainless steel countertop to give modern look to you kitchen. This countertop is easy to clean hygienic, light in weight. The top can handle hot pots and do not chip or scratch. It requires minimal maintenance and can be wiped with baby oil to become smear-free. Also it is durable and heat resistant, nonporous and limits the growth of bacteria.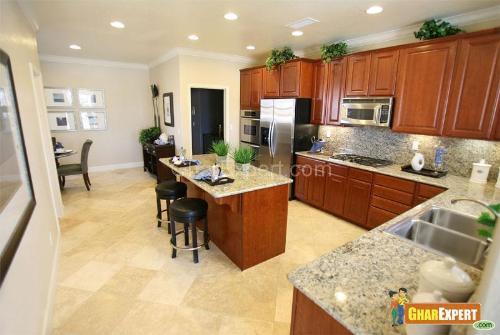 To know more choices of kitchen countertops,
click here.
Visit us at www.GharExpert.com