Brick arches
enrich aesthetic beauty and offer architectural view of the buildings. They cover openings of
door
and
windows
and transfer the upper loads to the side of walls. The arches need not any extra reinforcements as
brick
lintels do because of wedge shaped units. A number of arches have been developed over centuries. Here are given details of a few arch designs.
Fine axed brick arch: these arches are constructed carefully by setting bricks into required shape. The bricks are cut into wedge shape properly for fine architectural work in buildings. These arches are constructed with bricks in contrasting colors and the finished shape of fine brick arch gives pleasing appearance.


Gauged brick arch: gauged brick arch is very ornamental and expensive. The bricks have fine dressing before use and the joints between bricks are also very fine. Only a skilled mason with sound knowledge of geometry can construct these arches.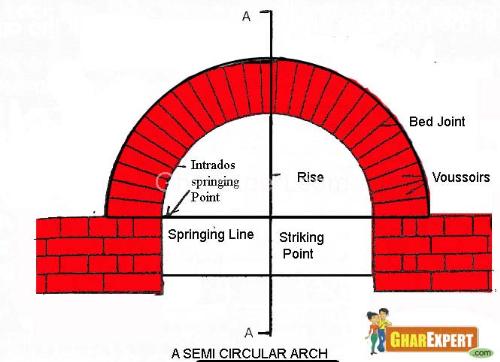 For more details on Brick Arches, click here.

Visit us at www.GharExpert.com