Roof flashing
technique is used to prevent water leaks from the roof of a house or a building. The flashing is a metal sheet which is installed at roof valleys/ gutter, chimneys,
skylights,
ridges, roof-wall intersections of the roof. Here are given a few roof flashings to stop leakage of water from the roof of your
house
.
Chimney flashing:

This

flashing is installed around the base of chimney to protect house from leakage. This flashing is fixed where walls of chimney rest on roof shingles. It has been categorized in two parts i.e.

Cap flashing and Base flashing

. Along the slope of roof, cap flashings are arranged in steps where upper steps overlap lower steps. Base flashing should be inserted in such a way on the roof consisting of slate, tiles or asphalt shingles as the joints are water tight living no possibility of leakage.
Valley flashing: This flashing is provided at the joints of two roofs to protect roof from leakage. The channel/gutter is provided on supports to drain out rain water from the roof.
Vent pipe flashing: this flashing is fixed over chimneys and pipes. It comes in shape of cone with a flange at the base and works into the shingles when roofing is applied.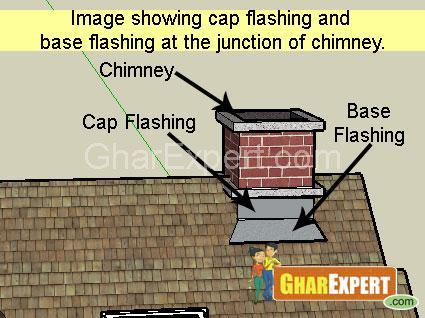 For more info on Roof Flashing,
click here.
Visit us at
www.GharExpert.com