Installation of bamboo flooring has much importance because only proper installation can ensure durability of the flooring in the house. Before you start laying bamboo flooring, the planks should be tested according to requirement of bamboo flooring.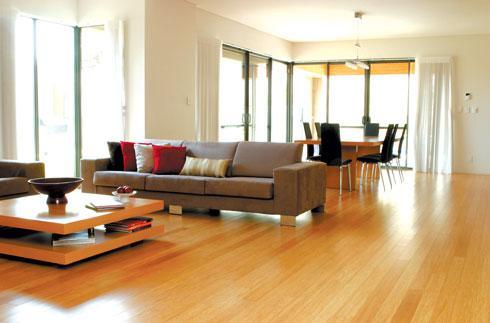 Here are given tips on how to install bamboo flooring correctly.
After leveling concrete, the surface should be cleaned before laying the floor.
The flooring should be fixed by nailing process in which the planks are laid down and nailed or steppled to sub floor.
The floor can be laid by floating method in which bamboo planks are laid on sub floor and they clicked or glued together.
This flooring is also laid by gluing down concrete floor. At first the concrete floor is leveled by leveling compound. The surface of the floor is cleaned by any dirt, chemical or any oily substances which may react with the floor. Then bamboos flooring planks or tiles are laid on the glue applied on concrete surface.
The material of bamboo flooring should be stored at least for one week at the site before fixing to get atmospheric moisture.
The layout of bamboo flooring is simple process; and one can lay this flooring by using required tools. This flooring gives cushion like feel.

Let's enjoy the beauty of bamboo flooring and know more tips on bamboo flooring.
View More>>
Visit us:
www.Gharexpert.com