You need to install outdoor lighting properly to enjoy exterior lights and outdoor décor of the house.
Exterior
lights are very functional for security and elegance purposes.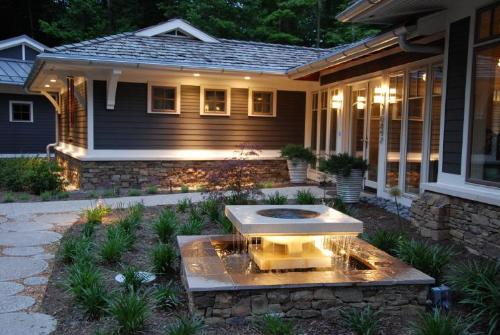 While you implement outdoor lighting, keep in mind the following points.
Place power source, a regular socket of the house; preferably one in the garage but an outlet from outside of the house can be used.
Identify areas where you want to install exterior lighting and remove any foliage for the layout of fixture in designed pattern.
Install mounting devices at the distance of 1 inch above the ground.
Plug the fixture to the transformer or source of power. Use water-proof connectors for connections.
Install light bulbs and always choose good quality lamps having bright light.
Fix all fixtures to the lowest tap and measure the voltage with the voltmeter at the fixture nearest to the transformer.
Apply the rule of thumb because transformers do not exceed 90% load rule.
Hide light source in so far as possible because the source is not required to be highlighted.
Apply timers for automatic and timely on or off light.
Let's find out more tips on installation of outdoor lighting.
View More>>
Visit us:
www.Gharexpert.com