Bathroom is a private space where you dive into coolness, refreshment and amusement. A lot of color schemes, attractive flooring and interior décor themes create a wonderful bathroom.
Glass showers and attractive lighting fixtures, fantastic accessories
are key decorative items for stimulating bathrooms. Let's know some bathroom design tips.
Bathroom shower door: Glass shower doors are available in a variety of designs and often swing in both directions. These shower doors are useful for easy and quick clean up. These shower doors come in a variety of finishes like nickel, chrome, brass or many more. You can pick any of the themes that match up with theme of your bathroom.
Bathroom ventilation: good ventilation is required in bathrooms where a lot of moisture exists. Large windows are practical in reducing the effect of moisture. To keep bathroom dry an exhaust fan is required for proper circulation of air.
Bathroom flooring: bathroom flooring should be attractive, anti slippery, damp proof, hard and durable. A variety of colors, shapes and textures of tiles is available for bathroom flooring. Marble flooring is durable and easy in cleaning. Vinyl tile flooring lasts long and is very easy to clean. You can choose any of them according to your fancy and budget.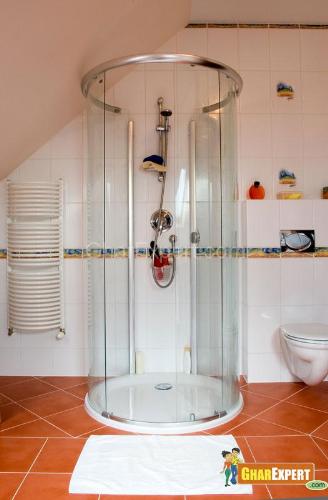 For more ideas on bathroom design,
click here.
Visit us at http://www.gharexpert.com