Platform Bed Styles
The platform bed, low and undemonstrative with a minimal profile raises utility to the level of art. The simple lines and lack of ornamentation make platform
beds
a perfect match for contemporary and modern bedroom sets.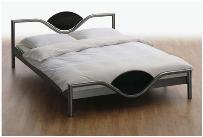 Poster/Canopy Bed Styles
A poster bed clamors means that it fits right with traditional
style
bedroom sets. But posters can also be used for country bedroom sets and sometimes even with transitional bedroom sets. The dramatic canopy bed will treat a traditional bedroom like a theatrical stage.
Sleigh Bed Styles
High and scrolling foot boards specifying sleigh beds look most appropriate with country bedroom sets or traditional bedroom sets. In rare cases particularly metal beds with open-slatted foot boards, sleigh beds can just pull off the look required for modern bedroom
furniture
sets.
see more>>
For More Information Logon to
http://www.gharexpert.com/