The following operations are executed in water proofing of basement where space for excavation around basement is limited.
1) The base slab of lean
concrete
is laid followed by
construction
of external protective
wall.
Its internal face is rough plastered. Horizontal damp proofing treatment is carried out.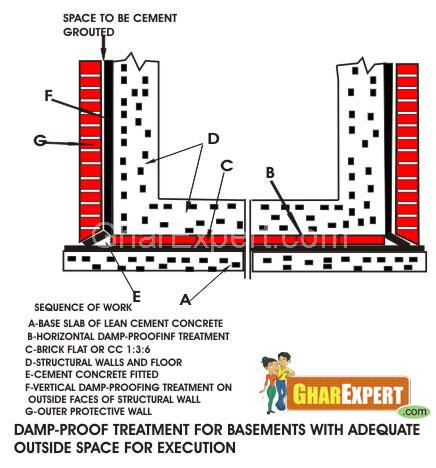 2) In the same manner as described in above process vertical damp proofing treatment is applied on inside plastered surface of the protective wall.
3) The treatment should be continuous on the wall and the floor.
4) For vertical damp proofing continuous with horizontal a fillet 75 mm ratios of 1:4 cement mortars should be provided at the junction of the slab and outer protective wall.
5) The horizontal and vertical damp proofing is protected against damage during subsequent operations.
6) Flat brick flooring and an inner protective wall are constructed.