Latest styles of Bedrooms.
Modern/Contemporary Bedrooms Styles:
Contemporary or modern bedroom should look clean, cool, and sophisticated. Low profile beds, simple prints and warm
colors
, and uncomplicated bedroom furniture pieces with smooth and streamlined forms are all elements of a contemporary bedroom set.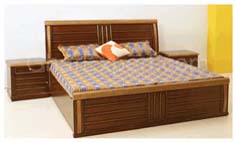 Traditional Bedrooms Styles:
Traditional bedroom furniture sets are typically ornate, lavish, and decadent. Woodworking and craftsmanship are put on full display via scroll work, carved bedposts, and over sized
decorative
headboards, all manufactured with deep and rich wood tones.
Transitional Bedrooms Styles:
Transitional bedroom sets are for eclectic
designers
, those who appreciate the very best wherever it can be found.
see more>>
for more information logon to
http://www.gharexpert.com/