Color of the Soil
Color
of the soil is another important aspect which should not be avoided at the time of purchasing the plot. The following colors of soil are considered better for
construction
purposes.
1. Red
2. Yellow
3. White
4. Black
seemore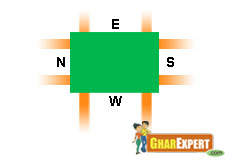 Red soil is suitable for executives who are engaged in administrative and legal services. These executives are usually employees of Government, armed forces or administration.
Yellow and Green is considered by shareholders, businessmen, bankers and by those who are directly related to commercial activities.
Usually White soil is preferable for intellectual professionals like doctors, engineers, teachers, poets, musicians, consultants etc.
for more information logon to
http://www.gharexpert.com/