You can
decorate kids room
with several articles like a desk, chair, and
lamp for reading
. The following are some options to do that.
Sports Theme
You can paint walls in strips with child's favorite colors. For accent on themes you can hang posters of athletes in action.
Geometric Themes
Diamond shape patterns are attractive and you can paint one wall in this pattern using favorite colors of your kids. The pattern should be repeated in other ways such as in fabrics of chair and pillows.
Floral Pattern Theme
You can use wallpaper or stencil a border showing flowery pattern around upper edge of the walls. You should pick light colors for the pattern. You should ensure that the pattern is favorite choice of your kids. You can hang framed posters of flowers to show same colors and theme for border.
In addition you can add some attractive accessories such as a comforter with black and white checks to
ornament your kids room
. You can also use splashes of extra colors with decorative pillows and works of art. Decorative accessories, darker colors in design, colorful silk flower arrangement in beautiful vase enhance the beauty of kids' room.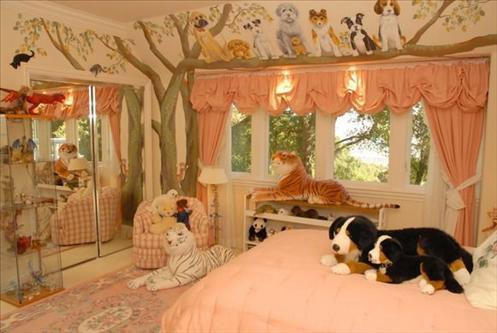 Let's find out more themes such as jungle theme, cartoon theme, sea theme, traveler theme and tips on kids' room.
View More>>