Linoleum flooring is one of the best options for flooring as it's durable and easy to maintain. This flooring is best suitable for shops, offices, laundries; children room and drawing room etc. You must store linoleum flooring material at clean, dry and well ventilated place without exposure to direct sunlight.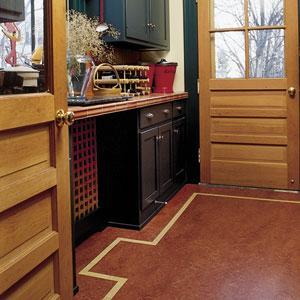 After you lay base coat and do proper leveling of the concrete for floor, you should apply following procedure for top layer of 'Linoleum Flooring'
Keep linoleum at a temperature, not less than 20 degrees Celsius for at least 48 hours before it is unrolled.
Unroll and loose Linoleum for 2 to 3 days to make it flat before it is cut into various sizes.
Clean and dry the surface before you lay. The sheet should be cut into required sizes and shapes with sharp straight edge.
Apply adhesive with the help of brush on base of the floor.
Press down the sheet firmly and roll it with a light cast iron 70 kg roller to ensure whether the sheet sticks properly.
Fix the sheet by keeping butt joints which are very fine.
Place sand bags over edges and joints to prevent sheets from curling.
Clean the surface with soap and wet cloth and wipe it dry after lying.
Do the surface wax polished for smooth shining but avoid excessive polish that makes floor slippery.

Let's find out deep information on right installation of linoleum flooring.

View More>>
Visit us:
www.Gharexpert.com