High-quality brick bonds
ensure the strength of entire
brick works
and add to the beauty of
brick walls and brick pillars
. As for example
English bond
is widely used and is considered to be the strongest bond. Let' s a few types of bonds.
Rat-Trap:
Bond Rat-trap bond is laid by placing bricks on their sides having a cavity of 4 (100 mm), with alternate course of stretchers and headers. The headers and stretchers are staggered in subsequent layers to give more strength to the walls. R trap bond
takes 20% less bricks, 24% less cement and has 25% less weight
than English bond. This bond helps in maintaining good thermal comfort inside the building.
Header Bond:
All bricks are arranged in header courses in header bond. This bond is used for curved surface in brick work because if stretcher is used for curved surface, it would project beyond the face of wall.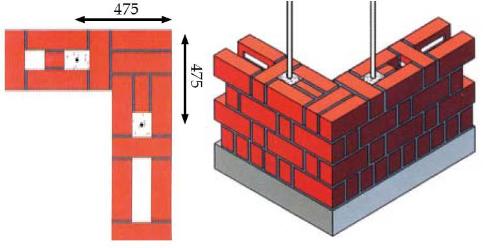 For more details on brick bonds,
click here.
Visit us at
www.GharExpert.com